Music Alley Festival 2019
Music Alley is back and better than ever! On September 7th Historic Downtown Mansfield is transformed into a music and arts paradise. This year we're going back in time 30 years and kicking it MTV style with 80's music, arts and entertainment.
Music Alley Schedule
MAIN STAGE
4:00 PM – Texas Flood
6:30 PM – WOWU2
8:00 PM – Electric Avenue – The 80's MTV Experience
FARR BEST THEATER
4:00 PM – Karaoke
6:00 PM – Svenny Baby
8:00 PM – Shot of Benatar
DANCE MUSIC STAGE
4:30 PM – Primadonna
6:00 PM – Danny Dash
7:30 PM – Sherrill Douglas
9:00 PM – Even It Up
CINDERBLOCK STAGE
4:00 PM - Larry g(EE) (Live DJ)
5:00 PM - Mr. Carter Davis
6:00 PM - Larry g(EE)
6:30 PM - D and Chi
7:30 PM - Larry g(EE)
8:00 PM - TC Superstar
9:00 PM - Larry g(EE)
210 STAGE
4 to 10 PM - Live DJ Music
THE LOT DOWNTOWN
7:00 PM - Movie Night: "Footloose"
Food Vendors List
Knights of Columbus #7736
Events By BJ
Branded Burger Co.
Flavor After Flavor
Pink Company
Vito's Kettle Corn
El Primo's Mexican Grill & Cantina
Big D Barbecue
Smokin' Cactus
Zoe's Kitchen
Shaneboy's Aloha Grill
Oooh'Wee Tamales
Artist List
Denise Acebo
Wendy Caldwell
Anthony Moreno
Jeremy Black
Geri Brettman
Usborne Books
Mark Cummings
Amanda and Wilfredo Diaz
Bianca Brunk
Gwen Purvis
Heidi Tournoux
Ami Art Glass
Pottery Conceptions
Adrian Quintanar
Kristie Wilkins
Distressed Glam
Chris Wilkins
EcoFashionistas
Red Hair Green Heart
Stephen Adkins
JLeigh Designs
Doug Peak
Meline Davalos
Jeff Church
Lush Garden Works
Other Entertainment & Vendors
Texas Entertainment – Arcade Games
Sinclair's Cosmetology – 80's Makeover
Maverick VR – Virtual Reality Experiences
Art Competition
Music Alley 2019 is just around the corner, and we're looking for artists to participate! Sign up now to enter the photography contest, or enter an original work in the mixed media art contest (drawing, painting, sculpture, etc), new this year! Both contests have divisions for youth (under 18) and adults, with all finalists on display at the festival and special prizes for our winners!

When
Sep 7th, 2019 4:00pm - Sep 7th, 2019 10:00pm
Cost
Music Alley is a FREE event.
Address
Downtown Mansfield
109 N. Main St
Mansfield, Texas 76063
Driving Directions
Music Alley Festival is on Main Street (FM 157) between Oak and Broad Streets.
Parking Directions
Parking is available at selected nearby businesses and public spaces as designated by Music Alley signs.
Contact Information
Looking for more information about Music Alley, or want to get involved?
We'd love to have you! Fill out your information and a representative will get back to you as soon as possible.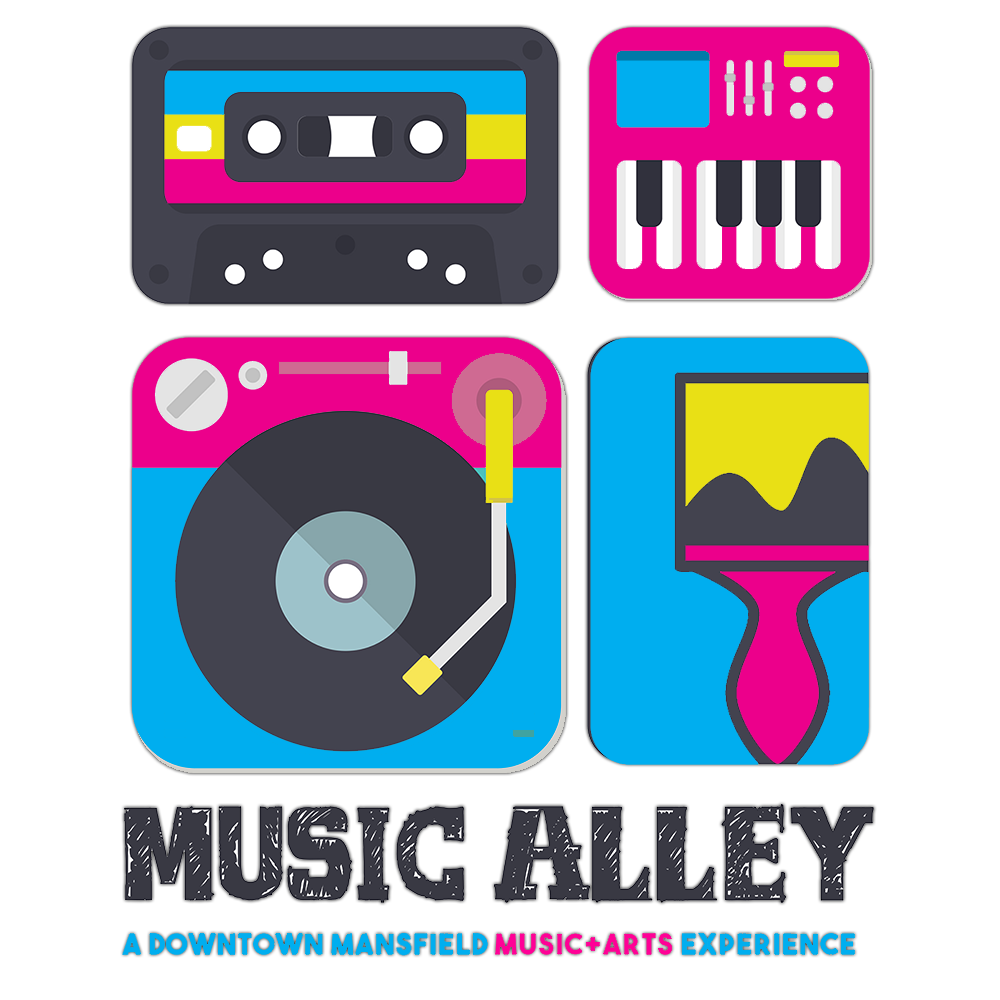 Event Details
Music Alley is one of the premiere music and arts events in all of the DFW metroplex! In 2019 it will be back and better than ever with five stages of live music, entertainment and arts. Also come out for all the best food and drink the area has to offer.
More details are still on the way, but for now save the date! Saturday, September 7th in Historic Downtown Mansfield!