Farr Best Theater Presents: m-pact In Concert: "White Christmas"
** THIS SHOW IS ELIGIBLE FOR A SEASON TICKET BUYER DISCOUNT **
Fill your holiday season with festive cheer and great music from m-pact, an amazing pop-jazz vocal group, as they bring their "White Christmas" tour to the Farr Best Theater in December!
This concert will feature a diverse collection of favorite holiday tunes and will highlight selections from m-pact's non-holiday repertoire, including pop and jazz hits by artists such as The Beatles, Stevie Wonder, Earth Wind & Fire, Miles Davis, and more.
The group is respected worldwide as a cutting edge trailblazer in the realm of vocal music. Emerging from an age of auto-tune and over-production, this Los Angeles-based ensemble has cultivated a new generation of ears hungry for the fresh, raw power of nature's 'first instrument' - the human voice. Around the globe, audiences are mesmerized by the thrill of m-pact's vocal acrobatics, innovative orchestrations, and commanding yet authentic stage presence. For individual bio information, see below. 
Opening the concert will be a special appearance by Dallas-based a cappella group, Kings Return, featuring a vocal band of brothers: Gabe Kunda, Charles Mays, J.E. McKissic & Jamall Williams. The group's sound is rooted in gospel, jazz, R&B, and classical music. Kings Return is committed to boldly go wherever their journey takes them. Their name is a reflection of the mentoring relationships-turned-friendships upon which the group was founded and is a proclamation to future generations to always be "our brother's keeper". 
Concessions will be provided by AndiMac Candy Shack. 
When
Dec 12th, 2019 7:30pm - Dec 12th, 2019 9:30pm
Cost
$25 Adult
$20 Senior
$20 Student
$15 Season ticket buyers (Must purchase at least one (1) ticket to a minimum of four (4) shows from the Local Spotlight or Farr Best Theater Presents Series at time of checkout)
Registration Link
Address
Farr Best Theater
109 N. Main Street
Mansfield, Texas 76063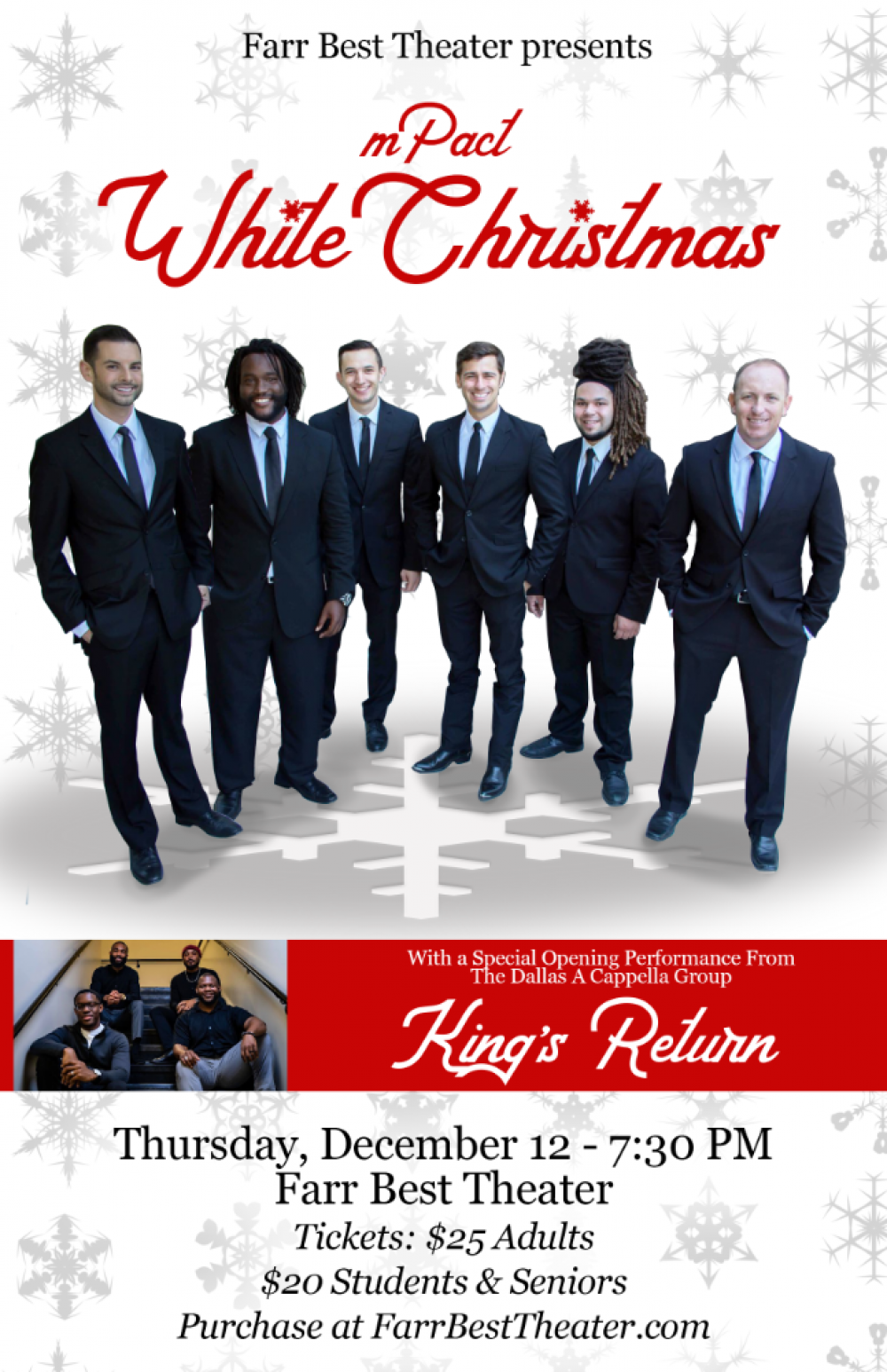 Event Details
PERFORMER BIOS:
Jeff Smith
Homegrown in America's Heartland, Jeff brings humility and humanity to m-pact. After this Kansas native studied Music Therapy and Education at KU with an emphasis in voice and bassoon, he founded and directed the critically-acclaimed a cappella group, "measureXmeasure." Boasting an arsenal of talent and never afraid to steal the show, Jeff is known as "The Human Drum Machine" by m-pact fans around the world. Jeff brings a friendly, father-figure role to both m-pact and to his 4-year-old son, Noah (from whom Jeff learns all his beatbox secrets).
Andy Degan
Andy comes to M-Pact from the opposite side of the country. Raised in Bristol CT by two church organists, it is only natural that he pursued music as a career. While studying for a degree in Vocal Performance from Central Connecticut State University, Andy began his professional A Cappella career over summer breaks in Cape Cod with Hyannis Sound. Since then Andy has gone on to become a world class A Cappella arranger and recording engineer in addition to adding to his already extensive performance career. Most recently, Andy spent the past two years making music in NYC with Switch, Blackout, The Silver Arrow Band, and Choral Chameleon among others. Andy brings to LA and M-Pact, a fun sense of humor and powerful tenor lead. A die hard baseball fan, Andy is excited to experience the west coast rivalries first hand and enjoy summer weather year round.
Tracy Robertson
LA based singer, multi-instrumentalist and vocal percussionist Tracy L J Robertson was raised in a Barbershop singing family, and now enjoys working in a variety of musical settings, M-pact most of all. While studying at Berklee College of Music, he performed in ensembles of global influence ranging from Balkan, to contemporary Indian, to Latin, to western jazz and classical. His predilection and impartiality with music has placed him on stage with the likes of Bobby McFerrin, Jose Merce, Victor Wooten, Valarie Simpson, and Dream Theater to name a few. Currently, Tracy works as a clinician, arranger, and performer as he spreads his passion for life through music. He is also an avid appreciator of mother nature, spending as much time as he can in the great outdoors.
Jamond McCoy 
This Long Beach native grew up playing and singing in the church, starting around age 10. A keyboard was put in front of him and was told to "figure it out." Since then he has received the Ella Fitzgerald Scholarship and Downbeat Soloist Winner. Now, he is Jazz and Gospel influenced vocalist, composer, arranger, and accompanist creating music for various venues and other fellow musicians. He is dedicated and committed to giving each musical endeavor the passion, energy and respect it deserves. His current endeavours include teaching at studios, and working as an assistant director at the Monterey Jazz Summer Camp and giving back to the church communities that helped shape him, as a music director. Jamond is looking forward to pushing the limits of m-pact. Outside of music, he absolutely loves all things food and puts as much passion into eating and making food as he does music.
Aaron Schumacher
Aaron is a multi instrumentalist and vocalist hailing from the Texas town of Ennis. He started playing trumpet in his school's band program and went on to join a polka band with his father before attending the University of North Texas for vocal jazz. He has performed with Seth MacFarlane, Ben Folds, and Amanda Palmer, and his voice has been heard on NBC, ABC, MTV, HBO and commercials across the US. By joining m-pact Aaron hopes to inspire the next generation of singers and continue the tradition of m-pact in creating artful, complex, and heartfelt music. When he isn't performing with m-pact Aaron sings with part of the Harry Potter Frog Choir at Universal Studios, the Metropolitan Master Chorale, a wedding band leader for the Lucky Devils Band, and a pop boy band "Soto and the Kras" and a multi instrumentalist. When he isn't busy with music Aaron enjoys reading, coffee, and yoga.
Drew Tablak
A graduate from Azusa Pacific University with his degree is Voice Performance he has had the honor of being a guest soloist for the Long Beach Pops Symphony Orchestra, The Premier Chorale of Los Angeles, The Pacific Symphony, The Orange County Symphony and The Golden State Pops. In 2005 he soloed at Carnegie Hall and in 2012 made a guest appearance on Glee. An accomplished acappella singer and clinician, he has worked with all three winners of The Sing Off, Claude Mcknight of Take 6, and acappella guru, Tony Huerta. Drew can now frequently be found working for Disney Entertainment. He currently works in the world famous Dapper Dans, and previously worked in The Mad T Party and the illustrious Voices of Liberty when he isn't with m-pact.